Hi hi readers and readers. Who doesn't love a romance ?! That book that makes you sigh, cry and be moved by the encounters and mismatches of the protagonist couple. So you must have read something from this author, Nicholas Sparks, one of the greatest writers of romance of today. Or if you haven't read it yet, you have certainly seen a film based on your works.
So how about knowing more about the life of this author, the books he wrote and films based on his work?
And if you still don't know anything about Nicholas Sparks, come with us to fall in love with this great writer...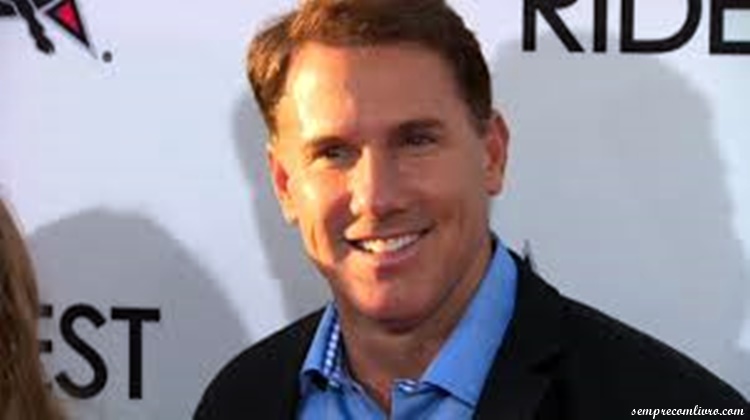 Life of novelist Nicholas Sparks
Nicholas Charles Sparks, was born on December 31, 1965, in Ohama, Nebraska. Son of Patrick Michael Sparks and Jill Emma Marie Sparks. Nicolas has two brothers:
Machael Sparks, (1964-);
Danielle Sparks (1966-2000), having died due to a brain tumor.
Nicholas Sparks was raised in Fair Oaks, California, but until the age of 8 they lived in different cities, including: Minnesota, Inglewood, California, Watertown, Playa del Rey, Grand Island, Nebrasca. Because of her father's decision to continue studying at the University of Minnesota and the University of Southern California.
His big dream was to be a high competition athlete, but a serious accident that occurred with him, changed his plans.
In 1988, Nicholas Sparks graduated from the University of Notre Dame with a degree in Corporate Finance. That same year, on his spring break in Florida, Nicholas met Cathy Cote, who on July 22, 1989, became his wife. They had five children: Miles, Ryan, Landon, and twins Lexie and Savannah.
Responsive Table: Roll the table sideways with your finger <<
Curiosity: Nicholas Sparks and Cathy Cote, split on January 7, 2015, after 25 years of marriage. However, before this event, Nicholas Sparks always made it very clear that Cathy was always his muse. As he said in an interview: "- All of my novels have autobiographical elements. Almost all of my female characters are based on my wife, for example. She is smart, funny, loyal, kind, strong, with a heart of gold. A good portion of my characters end up being that way too ".
The emergence of a writer
Still in 1985, while still at the University of Notre Dame, Nicholas wrote his first book which he named The Passion (A passion), and in 1983 he also wrote the book The royal Murders (The real murders). Both books were never published.
Even having written these books and not published he still tried to make a career in other professions such as: Waiter, selling dental products over the phone and even tried to start a manufacture.
Starting to work as a medical information officer. In this period (1992) he wrote his first book, The notebook (Diary of a passion).
To success
In 1994, literary agent Theresa Parks, discovered Nicholas, read the manuscript of The Notebook and offered to be its representative. Soon after, in 1995, the rights to the book were sold to Warner Books.
Being published in October 1996, and already in its first week of release, it has already entered the New York Times bestseller list.
Soon after, Nicholas Sparks moved to New Bern, North Carolina.
Some of Nicholas Sparks' biggest hits
Responsive Table: Roll the table sideways with your finger <<
| | |
| --- | --- |
| | Diary of a passion Original title: The Notebook Year of publication: 1996 Adapted for the cinema in 2004 synopsis: Duke is a simple man with a modest life, but he has loved someone with all his heart, and for him, that has always been enough. In the nursing home where he lives, Duke dedicates himself to reading poems to the other patients. But for a lady suffering from Alzheimer's – and only for her – read a special diary waiting for a miracle to happen. In it is written the emotional story of Allie Nelson and Noah Calhoun, two young people who discover the true meaning of passion. But they are separated by a series of obstacles and misunderstandings. Many years later, life manages to unite them again and the passion returns with all its brilliance. Already engaged to a successful lawyer, Allie must choose between maintaining the stable course of her life and surrendering to true love, taking all the risks. Reading the diary, Duke recalls his own life. And sometimes, the lady manages to break through the barriers of the disease and resume her former cheerful and vivacious identity. And whenever that happens, Duke is sure that the love recounted in the diary's pages is the most powerful force in the Universe. Link to purchase: Click here |
| | A love letter Original title: Message in a Bottle Year of publication: 1998 Adapted for the cinema in 1999 Synopsis: Three years ago, columnist Theresa Osborne divorced her husband after being cheated on by him. Since then, he doesn't believe in love and hasn't been seriously involved with anyone. Convinced by her boss that she needs some time for herself, she decides to go on vacation to Cape Cod. During the week off, after finishing her morning run on the beach, Theresa finds a corked bottle with a rolled-up sheet of paper inside. Opening it, he discovers a message that begins: "My dear Catherine, I miss you darling as always, but today is especially hard because the ocean has been singing to me, and the song is of our life together. ." Moved by the passionate text, Theresa decides to find its mysterious author, who signs only "Garrett". After a relentless search, during which she discovers new letters that increasingly stir her feelings, Theresa goes looking for him in a coastal town in North Carolina. When she meets him, she discovers that Garrett has been crying for his lost love for three years. But he also realizes that he might be ready to indulge in a new story. And, to her own surprise, so did she. Joined by chance, Theresa and Garrett are about to experience a moving story. Which reflects our deep hope of finding someone and living happily ever after. Link to purchase: Click here |
| | A love to remember Original title: A walk to remember Year of publication: 1999 Adapted for the cinema in 2002 Synopsis: Each April, when the wind blows in from the sea and mixes with the scent of violets, Landon Carter remembers his last year at High Beaufort. This was 1958, and Landon had already dated a girl or two. He always swore he had been in love before. Surely the last person in town thinking of falling in love was Jamie Sullivan, the daughter of the pastor of the town's Baptist church. The quiet girl who always carried a Bible with her school supplies. Jamie seemed content to live in a different world from other teenagers. She cared for her widowed father, saved injured animals, and helped out at the local orphanage. No boy had ever asked her out. Not even Landon had dreamed of it. Then a twist of fate makes Jamie his prom date, and Landon Carter's life will never be the same. Link to purchase: Click here |
| |   Dear Jonh Original title: Dear John Year of publication: 2007 Adapted for the cinema in 2010 Synopsis: After a rebellious and drunken youth, John Tyree decided to start a new chapter in his life and enlisted in the Army. A year later, now a new man, he returns to Wilmington, North Carolina, to spend time with his aging father. One afternoon, while admiring the small seaside town's sunset, he meets the girl of his dreams. In addition to being beautiful, Savannah is friendly, with an easy smile, an example of good conduct and altruism. Interestingly, this contrast of personalities does not prevent an overwhelming feeling from being born between the two. However, John needs to return to Germany in order to complete his military service. In the name of love, Savannah decides to wait for him, while the young soldier promises that, after that period, he will forever be by the side of the woman who won his heart. What neither could have expected were the events of 9/11. As John goes into combat in Iraq, Savannah must muster the strength to overcome the pain of distance. In this scenario of longing and uncertainty, a simple letter can change both of their lives forever. Link to purchase: Click here |
|   | A long journey Original title: The longest rid Year of publication: 2013 Adapted for the cinema in 2015 Synopsis: At the age of 91, in poor health and alone in the world, Ira Levinson is in a terrible car accident. As he struggles to stay conscious, the image of Ruth, his beloved wife who died nine years ago, looms before him. Even knowing that it is impossible for her to be there, Ira clings to it and remembers moments of their long life together: the day they met, the wedding, her love for art, the dark days of World War II and its effects. about them and their families. Nearby, Sophia Danko, a young art history student, accompanies her best friend to a rodeo. There, she is harassed by her ex-boyfriend and ends up being saved by Luke Collins, the cowboy who just won the competition. He and Sophia start talking and soon realize how easy it is to be together. Luke is completely different from the privileged college kids. He goes to great lengths to help his mother and save the family farm. Gradually, Sophia begins to discover a new world and realizes that Luke may have the power to rewrite the future she had planned. That is, if the terrible secret he keeps doesn't ruin everything. Wrath and Ruth. Luke and Sophia. Two couples from different generations that destiny will take care of uniting, showing that, beyond despair, difficulty and death, the power of love always guides us on this long journey that is life. Link to purchase: Click here |
| | In your eyes Original title: See me Year of publication: 2015 THEstill not adapted for cinema Synopsis: Daughter of Mexican immigrants, Maria Sanchez is a smart, beautiful and successful lawyer who learned the value of hard work and a disciplined routine early on. But a trauma makes her question everything she believed in and return to her hometown, little Wilmington. The city is also the place Colin Hancock chose to give himself a second chance. Despite his youth, he has suffered more violence and neglect than most people. He also made his share of mistakes and hurt more people than he wanted to. Now he is determined to change his life, become a teacher and give the children the love and attention he himself lacked. Colin and Maria are not meant for each other, but a chance meeting during a storm will change the course of their stories. When confronting the differences between the two, they will question their own convictions. And by seeing beyond appearances, they will rediscover the ability to love. However, in this fragile search for a fresh start, their relationship is threatened by a series of suspicious incidents that revive old sufferings. And when a real danger begins to impose itself, Colin and Maria must fight for their love to survive. Link to purchase: Click here |
| |  Two by two Original title: Two by two Year of publication: 2016 Not yet adapted for the cinema Synopsis: With a successful career, a beautiful wife and an adorable 6-year-old daughter, Russell Green has a life to envy. He is so sure that peace will reign forever that he doesn't notice when the situation starts to go off the rails. In a matter of months, Russ loses his job and his wife's trust, who moves away from him and is forced to go back to work. Needing to fight to adapt to a new reality, he doubles down to take care of his little daughter, London, and begins to reinvent his professional and affective life – and to open himself up to old and new emotions. Launching himself into this unknown universe, Russ embarks with London on a journey at once frightening and rewarding, which will test his skills and emotional balance beyond what he could have imagined. In Two by two Nicholas Sparks tells the story of a man who needs to rediscover himself and look for qualities he did not even suspect he had in order to fight for what is most important in life: those we love. Link to purchase: Click here |
His books have been translated into more than 45 languages ​​and have sold more than 80 million copies worldwide. Much of his works have already been adapted for cinema.