Today in this post we will provide a complete list of names for Dogs and Pets. The list will help you to have ideas to put on your pet, especially the dogs.
Names can also be put on cats, but some will not make as much sense or match well. You can leave more suggestions in the comments at the end of this post.
We recommend using the internet browser search engine (CRTL + F) to search for the words you want about for Dogs and Pets. We also recommend reading our post on: Elven Names for Animals.
I imagine you loved it with this simple list of vocabulary for Dogs, Cats and Pets. Don't forget to share and leave your comments!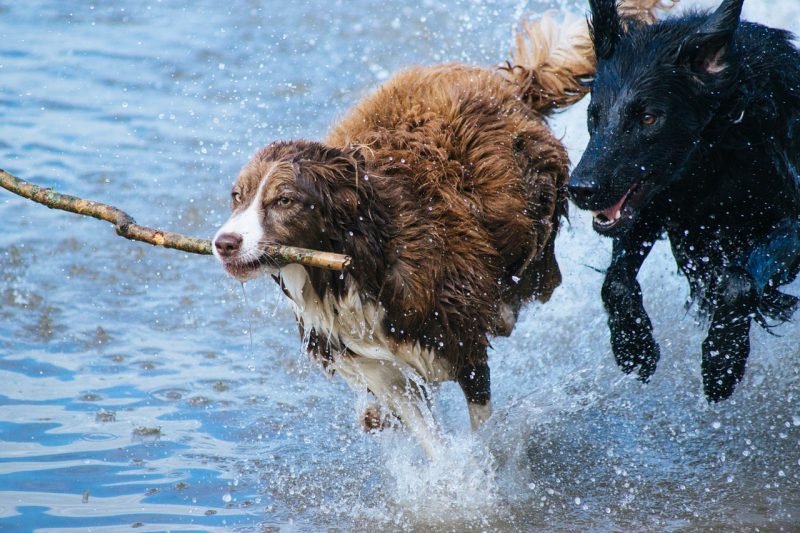 Dog Names - Female Dog
Below is an alphabetical list of names for female dogs or bitches:
Abby
Africa
Aphrodite
Agatha
Aida
Aika
Aila
Aire
Aisha
Akasha
Akira
Alana
Alaska
Aldana
Alpha
Alia
Alicia
Allie
Alyn
Yellow
Bitter
Amazon
Amber
Ameera
Ami
Friend
Blackberry
Amy
Anabela
Andy
Angel
Anita
Anka
Anne
Annie
Antonieta
Antonia
Aria
Ariana
Ariel
Skittish
Arizona
Arya
Asia
Astra
Astreca
Athena
Athens
Athena
Audrey
Aura
Aurora
Autumn
Oats
Airplane
Ayala
Ayla
Blue
Sugar
Babi
Baby
Bahamas
Bullet
Balu
Bambi
Barbie
Barcelona
Barta
Baylis
Beauty
Bebel
Baby
Becky
Beka
Bel
Nice
Bell
Bella
Beloura
Berta
Berê
Beth
Betty
Bia
Bianca
Biba
Bibi
Bibo
Biboca
Spout
Bika
Bilica
Billy
Bilú
Biscuit
Blacky
Blanca
Blinky
Blossom
Ball
Acorn
Bondi
Doll
Bonnie
White
Brandy
Breja
Brenda
Bridle
Brigadeiro
Brigite
Briks
Toast
Breeze
Bru
Brunette
Buba
Buffy
Cocoa
Cacha
Cachi
Cashew
Cali
Camila
Candela
Candy
Cinnamon
Cangica
Capitu
Caramel
bald
Carmen
Carrie
Casil
Cata
Ceci
Channel
Charlot
Chelsea
Chenoa
Cherry
Chessy
chilli
China
Cheetah
Chloe
Chocolate
Chris
Chuka
Cinderella
Cindy
Clair
clear
Clea
Cleo
Cocada
Coconut
Cumin
Condesa
cookie
Crazy
Crystal
Cristela
Cuca
Cuqui
Given
Dafne
Daga
So
Daire
Daisy
Dakota
Lady
Dana
Danete
Dani
Danila
Danke
Danoninho
Dara
Darcy
Debbie
Debim
Debra
Debs
Dede
Deize
Delta
Palm oil
Detis
Diana
Didi
Didinha
Say it
Dina
Dinky
Dippsy
Diva
Dixi
Dixie
Dolly
Dominica
Dona
Donatella
Donica
Ferret
Dora
Dorea
Doris
Doroteia
Golden
Doxe
Drica
Drink
Dudley
Dudu
Dulce
Duchess
Eevee
She
Elba
Elecktra
Eli
Elie
Elis
Elisa
Eliza
Ella
Elsa
Ema
Emma
Empadinha
Emy
Endiva
Enia
Enya
Enza
Erin
Eritrea
Pea
Eslô
Spain
Fuse
Stele
Estelle
Ester
Star
Little Star
Eve
Everest
Fabi
Fafinha
Fanny
Will make
Flour
Crumbs
Broad bean
Felicia
Felipa
Felisa
Ferna
Ferrana
Feta
Fifi
Fiji
Filomena
Phylum
Fiona
Ribbon
Flan
Flappy
Flakes
Flofy
Flopy
Flocoinho
Flower
Flora
Fofi
Phonfa
Fox
Foxy
Frajola
Fran
Francesinha
Francisca
France
Frederica
Freya
Frida
Friska
Gabi
Gabinha
Gabon
Gaia
Gal
Gala
Ghana
Georgia
Gigi
Gil
Gilbra
Gilda
Gina
Ginger
Gipsy
Gisele
Gitana
Guava
Fat
Gordi
Gouda
Grace
Money
Grenade
Graviola
Grazi
Greta
Greece
Guabiraba
Gui
Guinda
Guiza
Haggis
Haiti
Hally
Hana
Hanna
Hannah
Happy
Harley
Harper
Hazel
Ivy
Hygiene
Hiji
Hilary
Himba
Hobza
Netherlands
Holy
Hong
Hors
Hungra
Igna
Island
Ilma
Imori
Ina
India
Indonesia
Indy
Inga
Ingrid
Inka
Iris
Ireland
Isa
Isabela
Isis
Isla
Isoca
Itaca
Italy
Italy
Ivy
Izzie
Izzy
Jabuticaba
Jackfruit
Jackie
Jade
Jamaica
Jambo
Jana
Jane
Jani
Janice
Jara
Jasmin
Jasmine
Jazz
Jean
Jersey
Jess
Jill
Jim
Joana
Jojo
Jordan
Josie
Joy
Ju
Juju
jujube
Julia
Juliet
July
Juno
Juçara
Kaki
Kala
Kali
Kana
Kate
Katie
Katy
Kay
Keesha
Keila
Kelly
Kenya
Kia
Kiara
Kika
Kiki
Kim
Kimba
Kimi
Kina
Kira
Kiribati
Kisa
Kiss
Kitara
Kiubo
Kiva
Kiwi
Koko
Koku
Kona
Kora
Kuka
Kuki
Kuwait
Kerida
Lacey
Lady
Lobster
Lagostin
Laika
Laila
Lala
Lana
Landa
Laos
Lara
Orange
Lasagna
Laska
Lassie
Laya
Layka
Layla
Lea
Lena
Lentil
Leslie
Lessy
Leti
Latvia
Lexi
Lexie
Lia
Lica
Lychee
Licuri
Lila
Lili
Lilly
Lily
lime
Lemon
Beautiful
Lira
Lis
Lisa
Lissy
Lithuania
Wolf
Lobera
Lola
Lolla
Loly
Lory
Lu
Luca
Lucy
Squid
Lulu
Luna
Lupita
Libya
Macadamia
Monkey
Macy
Mafalda
Mafi
Magali
Maggie
Cornstarch
Chili
Malawi
Maldives
Mali
Malaysia
Mamba
Castor bean
Mamorana
Stains
Mandi
Manioc
Mango
Mangaba
Mara
Marga
Margot
Marilyn
Marmalade
Mary
Matrix
Maxixe
Maya
Meili
Honey
Melody
Mia
Michi
Mika
Mila
Milana
Milanese
Mili
Milka
Millie
Milu
Mimi
Mimo
Mimosa
Mine
Mindy
Minnie
Misha
Miska
Missy
Misty
Mocha
Moe
Molly
Moon
Mopsi
Fly
Moura
Mousse
Muffin
Muffi
Mulan
Muse
Murcia
Nadine
Naia
Naira
Nairobi
Nala
Nana
Nancy
Nanda
Nani
Nanuk
Naomi
In your
Natasha
Nauru
Black
Neka
Neko
In it
Nelly
Nena
Nepal
Nesky
Ness
Nic
Nica
Nicky
Nicole
Niger
Nigeria
Nikita
Nikki
Nina
Niuska
Noah
Ninth
Noni
Daughter in law
Nori
Norway
Nosky
Nape
Nura
Odalisque
Ohana
Oititi
Olivia
Olivia
Omara
Oman
Ona
Onigiri
Orca
Orgeat
Oregano
Osha
Oyster
Octavia
Ovira
Ozis
Pachi
Pandora
Paris
Paty
Paulina
Pavegan
Peanut candy
Pearl
Peggy
Penelope
Penny
Pepa
Pepper
Pepsi
Little
Wait
Pearl
Perry
Phoebe
Pickles
chili
Pine cone
Pink
Pinki
Paint
Kite
Piper
Pipo
Popcorn
Pirate
Lollipop
Pita
Pitanga
Pitaya
Pitoma
Pitty
Pitu
Pituca
Pitucha
Pitufa
Poly
Polka
Poland
Pompom
Princess
Princess
pudding
Pufy
Puka
Puky
Pumbaa
Pupi
Puska
Petal
Quake
Qatar
Queen
Queeny
Cheesecake
Cheese
Cupcake
Perhaps
quiche
Quila
Quimdim
Quincas
Quinoa
Quira
Quirobea
Quixaba
Kenya
Raisa
Randy
Rasta
Rasty
Raven
Raya
Rayka
Rayssa
Rebeca
Reigns
Ricotta
Riley
Rinoa
Rita
Roana
Robi
Pomegranate
Romania
Rommy
Pomegranate
Rona
Rory
pink
Rose
Rosi
Rosie
Roti
Roxy
Rwanda
Ruby
Ruby
Rudy
Rumba
Rune
Rusia
Russia
Arugula
Saba
Sabrina
Sacha
Sadie
Sapphire
Sage
Salak
Sally
Parsley
Samantha
Samara
Samba
Sammy
Sandy
Santa
Sapeca
Sapota
Sasha
Sasky
Scarlett
Scout
Scruffy
Jungle
Seine
Senda
Seriguela
Serbia
Shakira
Shanka
Sheila
Sherpa
Sheyka
Sheyla
Shirley
Shitake
Shiva
Shy
Sierra
Silver
Simba
Symphony
Tuning
Sira
Crab
Sissi
Sky
Sofia
Soy
Sun
Shadow
Sony
Sophie
Sparkle
Stela
Stella
Sugar
Switzerland
Summer
Sunny
Suri
Susy
Sweet
Sydney
Sylka
Syria
Tabasco
Taby
Cup
Taioba
Taissa
Date
Tami
Tangerine
Tapia
Tapioca
Tara
Tari
Tortoise
Tasha
Tasia
Tasmania
Tass
Tati
Tatoo
Tatty
Tea
Teak
Telma
Tequila
Terri
Tete
Thai
Thais
Tina
Titi
Toa
Silly
Tonga
Toast
Crackling
tortilla
Tota
Toti
Trisca
Trixie
Troia
Truffle
Tucumã
Tulip
Tunisia
Turquoise
Turkey
Tutu
Tyra
Date
Tokyo
Ucra
Uganda
Ugli
An
Grape
Valky
Vanessa
Vanilla
stick
Vava
Vega
Candle
Will see
Verrine
Vichy
Vicky
Vieira
Vilma
Vitis
Volouté
Vânia
Venus
Wafle
Wallis
Wanda
Wasabi
Wendy
Whitney
Whoopi
Wilma
Winnie
Woopi
Woow
Xana
Shah
Xeena
Xena
Xera
Xinha
Xipa
Xixá
Xoxa
Xoxo
Xuca
Xura
Yaisa
Yakira
yakisoba
Yakult
Yam
Yan
Yani
Yanis
Yara
Yarina
Yaris
Yascara
Yin
Yoko
Yola
Yoli
Yona
Yuki
Yuma
Yuria
Zala
Zamba
Zambia
Zana
Zarpas
Ziza
Zizania
Zizi
Zoe
Zoey
Zoni
Zula
Zulu
Zuzuca
Africa
Agate
Erica
India
Iris
Itala
Ursula
Male dog names
Below is a complete list of names for male puppies and dogs in alphabetical order:
Aaron
Abilio
Ace
Adonis
Aire
Alain
Alan
Alaska
Albie
Albino
Albo
Alcapone
Tar
Aldo
Alex
Alf
Alfalfa
Alfie
Cotton
There
Alonso
Alvin
Peanut
Blackberry
Andean
Andy
Angus
Ankor
Anouk
Anselmo
Anubis
Off
Apollo
Apollo
Achilles
Aramis
Araruna
Archie
Arctic
Argos
Ariel
Arnold
Arnoldo
Arnó
Arturo
Ash
Ashes
Aslad
Aslan
Aspen
Asterix
Aston
Astor
Star
Athena
Athos
Atila
Aurelius
Avalanche
Hazelnut
Axel
Sugar
Babou
Spleen
Badi
Bailey
Whale
Baloo
Baltimore
Balto
Balu
Bambi
Bamboo
Bandit
Banzé
Beards
Barney
Bart
Bartolo
Baruk
Basko
Basil
Bat
Potato
Batman
Baxter
Bayron
Beans
Bear
Beatle
Beau
Bebeto
Beckam
Beethoven
Beethowen
Bel
Beluga
Ben
Bender
Benji
Benny
Bernabé
Bernie
Bianco
Bibo
Beast
Bigfoot
Bill
Billy
Bimbo
Cookie
Black
Black Mamba
Blackbean
Blackberry
Black bird
Blackie
Blacky
Blade
Blas
Blast
Blinky
Bliss
Blue
Bo
Bob
Bobby
Stew
Bold
Ball
Acorn
Bolt
Sugarplum
Bon
Bond
Bonfire
Bongo
Boniface
Boomer
Borat
Boris
Bosco
Boss
Boston
Arm
Brad
Brady
White
Brand
Brandon
Brandy
Brigadeiro
Brody
Brom
Brown
Brownie
Bruce
Bruno
Brussi
Brutus
Buba
Bubba
Bubu
Buck
Buddy
Bull
Burton
Buster
Button
Buzz
Cocoa
Coffee
Cain
Condensed milk dessert with cashews
Calvin
Camilo
Canito
hominy
Captain
Caramel
Carlos
Carlton
coal
Cash
Casper
Catita
Carrot
Caesar
Chambi
Chambinho
Champ
Chance
Chantilly
Charlie
Charly
Chase
Chaskas
Chaval
Cherokee
Cherrie
Chester
Chicho
Chico
Chien
Chinook
Chip
Chiqui
Chiquim
Chiva
Chocolat
Chocolate
Cholo
Chuchu
Chuckie
Chuk
Chuky
Chusko
Ciro
Cisco
clear/clear
Claus
Cleto
Cletus
Clint
Clip
Cloud
Claudio
Coconut
Cody
Coffee
Coke
Glue
Colin
Colmillo
Colombo
Comet
Conan
Congo
cookie
Cooper
Copper
Corey
Corki
Crow
Cosco
Cosmos
Coast
Coty
Cow
Craster
Crazy
Crok
Cross
Crow
Cruela
cupcake
Cuqui
Cutie
Caesar
Given away
Dakar
From there
Dalton
Dandy
Danger
Danke
Danko
Dante
Dark
Dark Star
Darth
Darwin
Davor
Decker
Deco
Demon
Denis
Denver
Dexter
Dick
Didi
Diesel
I say
Dynamite
Dingo
Dinky
Dino
Dippsy
Dixi
Django
Dobby
Doc
Doggie
Pug
Dolche
Domino
Donald
Dony
Dosel
Dot
Drac
Draco
Drago
Drop
Drussel
Duck
Dudu
Duke
Dumbo
Dumper
Dunkan
Duke
Dusty
Dyon
Black Dahlia
Dollar
Eclipse
Eco
Eddy
Eden
Eevie
Elain
Eliott
Elmer
Helm
Elso
Elvis
Emilio
Enko
Enrico
Enzo
Eric
Esco
Dark
Espresso
Ethan
Etiene
Evo
Faig
Falbus
Fang
Crumbs
Faust
Bean
Philip
Fig
Phylum
Fink
Finn
Finnie
Fion
Fity
Flame
Flappy
Floc
Flake
Flopy
Flocoinho
Fofi
Cute
Ant
Strong
Fosca
Fox
Foxy
Francis
Frank
Frankie
Frederico
Fredy
Freud
Friki
Friski
Frodo
Frosty
Smoke
beetle
Fuzzy
Felix
Galaxy
Galaxy
Galileo
Ganesh
Gary
Gaspar
Gastão
Gatsby
Gaudi
Ice
George
Ghost
Gil
Gilberto
Gilson
Ginger
Gingko
Gizmo
Glaucous
Godoy
Godzilla
Goku
Golafre
Golf
Goofy
Gordi
Fat
Gordon
Gorki
Gothic
Go to
Goya
Graphite
Big
Gringo
Gucci
Guido
Gulliver
Gunner
Gus
Gothic
Habib
Hachicko
Half
Hamel
Hank
Hanko
Happy
Harley
Harold
Harry
Harvey
Helder
Hematite
Henry
Hersel
Hiro
Hollyfield
Homer
Homer
Howie
Hugo
Hulk
Hummus
Humo
Humphry
Hunter
Hercules
Ice
Iceberg
Icy
Iduri
Ifrid
Igloo
Igor
Iker
Ikrik
Amazing
Indi
Indie
Indigo
Indu
Inka
Ignatius
Ione
Iron
Isis
Ispi
Yuri
Ivan
Ivo
Jack
Jacks
Jackson
Jagger
Jaguar
Jake
Jambo
Jason
Jasper
Jax
Jazz
Jean
Jerry
Jersey
Jet
Jimini
Joca
Joe
Joey
Johan
John
Jordan
Jorge
John
Juan
Juca
Julio
Junior
Jurgen
Justin
Kadu
Kaisser
Kaka
Kali
Kalifa
Kaliman
Kay
Kazan
Keiko
Kempes
Ken
Kenny
Kent
Kenzo
Kevin
Kheops
Kiko
Killer
Killo
Kilo
Kimbo
King
Kino
Kyoto
Kirk
Kiubo
Klein
Kobe
Kobie
Kody
Koko
Kong
Kopi
Kraus
Krusty
Kurt
Kyle
Lady
Larry
Laser
Lava
Lemur
Lennon
Lennox
Leo
Leon
Leslie
Lester
Liam
Libyan
Lilo
Lineu
Lio
Little
Wolf
Loki
Loky
Long
Lop
Loras
Lord
Lotus
Lotus
Louie
Blackboard
Loyd
Moon
Lucas
Lucky
Luigi
Luke
Luna
Lupi
Luque
Light
Lazarus
Livy
Pike
Mac
Magali
Magic
Magma
Maky
Malik
Mambo
Mammoth
Stains
Manel
Marley
Marquis
Mateus
Bad
Max
Maya
Meco
Meringue
Mica
Michael
Michi
Mick
Mickey
Micky
Mico
Midnight
Miguel
Mike
Milky
Mille
Milo
Milu
Milú
Mimo
Mingo
Minion
Minnie
Mysterious
Mittens
Mochi
Moka
Molly
Momo
Mongo
Monto
Monty
Bat
Morgan
Mori
Moritz
Mork
Moro
Mousse
Mozart
Mu/Moo
Muky
Murphy
Magic
Maximum
Nacho
Nago
Nala
Nando
Dwarf
Nano
Nanouk
Napoleon
Narcissus
Nash
Black
Neil
Nelo
Nelson
Nemo
Neo
Nepal
Nereus
Nero
Ness
Nestor
Snowy
Nevat
Newman
Newton
Nicholas
Nick
Nico
Nile
Nimbus
Ninja
Noah
Night
Nor
Norman
Norton
Cloud
Nuc
Norton
Obby
Obelix
Oddie
Oliver
Olivio
Ollie
Onion
Onyx
Onyx
Oppy
Orca
Ears
Oreo
Orpheus
Proud
Orion
Originating
Orchid
Oscar
Oso
Otis
Oto
Otto
Oxford
Ozzy
Pace
Paddy
Panda
Panther
Black Panther
Paqui
Paquito
Paws
Patch
Patrick
Paul
Peanut candy
Parts
Pedro
Peewee
Hair
Teddy
Furry
Pepe
Pepeu
Pepper
Pepsi
Percy
Perry
Perseus
Peter
Petit
Petunia
Philip
Piano
Pickle
Popsicle
Pikachu
chili
Ping
drop
Penguin
Pipo
Popcorn
Pirate
Pitoco
Pitt
Pitty
Pitufo
Pluto
Pocho
Poker
Pole
Poly
Pompom
Pong
Pongo
Black
Little
Prince
Prince
pudding
Pufy
Puma
Pumbaa
Punk
Punky
Pupi
Puppy
Pure
Pushkin
Puskas
Pearl
Gunpowder
Quantum
Quechu
Burned
Quentin
Quevedo
Quico
Quim
Quin
Quindim
Quino
Kiwi
Quivira
Rabito
Racoon
Radar
Radu
Raico
Queen of the Night
Lightning
Raiser
Rally
Rambo
Randy
Rasta
Rasty
Raul
Raven
Ray
Rex
Rhino
Rice
Richard
Richie
Rick
Ricky
Ringo
Risk
Robin
Robinson
Rocco
Rocky
Roco
Rodolfo
Roger
Rolly
Roman
Romeo
Romeo
Ron
Ronnie
Rock
Rosco
Ross
Rott
Rover
Roxy
Roy
Rudolf
Rudy
Ruff
Rufus
Rui
Runny
Rupert
Russ
Russell
Rusty
Romulus
Sacha
Sake
salt
Salero
Parsley
Salt-N-Pepa
Sam
Sambo
Samir
Sammy
Samuel
Sancho
Sandy
Scar
Scooby
Scooter
Scot
Scott
Scout
Scrabble
Seilor
Seimour
Shadow
Shaggy
Sharik
Sheer
Sheik
Sherman
Sherpa
Sheyko
Shion
Silver
Simba
Simon
Sinister
Sirius
Skip
Sky
Smith
Smoke
Smoky
Sniff
Snoopy
Snow
Snowflake
Snowy
Sun
Shadow
Sony
Ice cream
Spanky
Sparkle
Sparky
Sparta
Spay
Spike
Spirit
Spot
Sreck
Starsky
Stasky
Steven
Sting
Stitch
Stuart
Sugar
Suggar
Juice
Suri
Sushi
Sigh
Swan
Socrates
Taisson
Taj
Tajibo
Baby powder
Drum
Tango
Tank
So
Tarzan
Tass
Tate
Tact
Tatoo
Tauro
Teddy
Tedy
Teo
Tequila
Terry
Texmex
Thai
Thomas
Thor
Thunder
Tibo
Tiger
Tim
Timbal
Timmy
Tino
Ink
Tintan
Tintin
Tintin
Titan
Tito
Titu
Titus
Tobby
Tobias
Toby
Toddy
Toffee
Tofu
Togo
Tone
Tommy
Thomas
Tony
Toast
Totti
Bull
Toy
Fret
Trigger
Tristan
Trixi
Tron
Troy
Truco
Trueno
Truman
Tupã
Turkish
Turk
Turko
Tourmaline
Tweety
Twilight
Txuco
Tyrion
Tyrrell
Tyson
Tzar
Uaji
Ubaldo
Udolf
Udols
Ulysses
Ultra
Urco
Uri
Ursus
Grape
Uzbek
cow
Vader
Vadão
Valdemir
Valto
Valerio
Steam
Velvet
Wind
Verdi
Vick
Vico
Vigo
Viking
Vincenzo
Vito
Vitor
Vixen
Widow
Volton
Voodoo
Vortex
Vulcano
Waffle
Wally
Will
Winston
Winter
Woody
Chess
Xander
Yak
Yako
Yanko
Yeiko
Yeron
Yeti
Ying-Yang
Yoda
Yonny
Yoshi
Yuco
Yuki
Yurgen
Zaion
Zaitos
Zar
Zebra
Zeca
Zeus
Zico
Ziggy
Zorro
Zulu
Zwan
Ebana
Is rich
Icarus
Indian