Being accused of plagiarism can ruin your professional and academic reputation. When it comes to unintentional plagiarism, we are not sure whether our content bears resemblance to another source. Sometimes we arrive too late to notice once we submit our content and face penalties for doing so.
Therefore, it is recommended to check for plagiarism in advance to avoid any consequences of duplication. To support this service, there are several tools available online. These tools provide comprehensive information about resources and links that correspond to the content on our website.
When do you need a plagiarism checker?
Academic-related individuals should use plagiarism checkers before submitting their papers and thesis papers.
Researchers need to ensure that their research work is unique to support the credibility of their scholarly contributions.
Likewise, students should make sure their assignments are free of plagiarism to ensure better grades, as plagiarism checking is an essential part of any educational institution's assessment process.
Web content writers and bloggers need to dodge the search engine penalty to feature their content among search engine results.
Beyond academics, bloggers need these plagiarism checkers to create unique content for their online platforms.
Why should you use a plagiarism checker?
● Plagiarism checking software can help you evaluate your work before submission. It's a great source of educational help when you're preoccupied with your research work and grades. A plagiarism report can support the credibility of your thesis or research paper.
● Using plagiarism checking tools, you can improve your ability to practice and learn to write unique content. You can write some content and use these tools to assess your skills.
● Plagiarism checkers go through many resources and web pages to match their content with any published material. This activity is nearly impossible to do independently, or it can take days to scroll through billions of web pages. With plagiarism checkers, it's a matter of minutes.
Now that we've discussed the benefits and uses of plagiarism checking tools, let's look at some of the most valuable and up-to-date. Each of these tools has its specifications based on pricing and usability.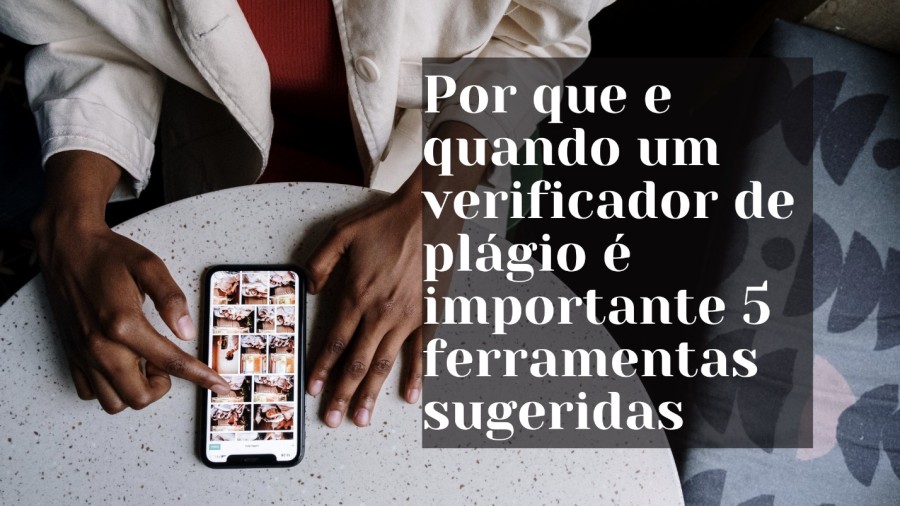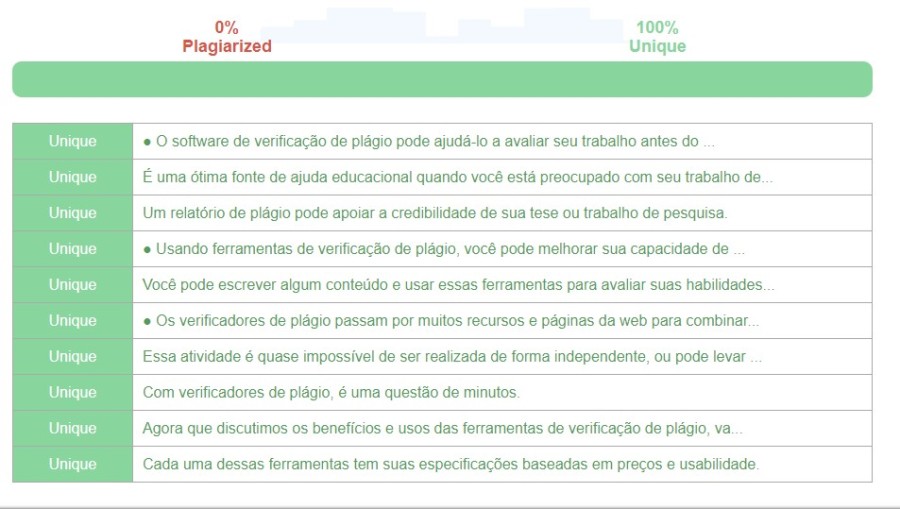 When we talk about checking for plagiarism, word count support becomes a worrying limitation with enrollment or registration restriction.
But with EditPad's plagiarism checker, you can check up to 1000 words for free. No registration, no payment required.
You can use this plagiarism checker by uploading a file in different formats like docx, pdf, text, etc. You can simply copy and paste the content into the box to detect plagiarism.
This tool is an ideal option for bloggers and academic writers who need to check for plagiarism and edit their content in real time. You can also choose to upload files in the editor to check the duplication score.
In addition, you can also download the final plagiarism report after ignoring your content by the plagiarism checker.
pros
● 1000 words per unrecorded check
● Allows you to check plagiarism and edit the text in real time
● Provides a detailed report on the percentage of plagiarism from each source
● Supports multiple languages
cons
● No option to increase word count limit per scan
● Captcha requires
2. Unicheck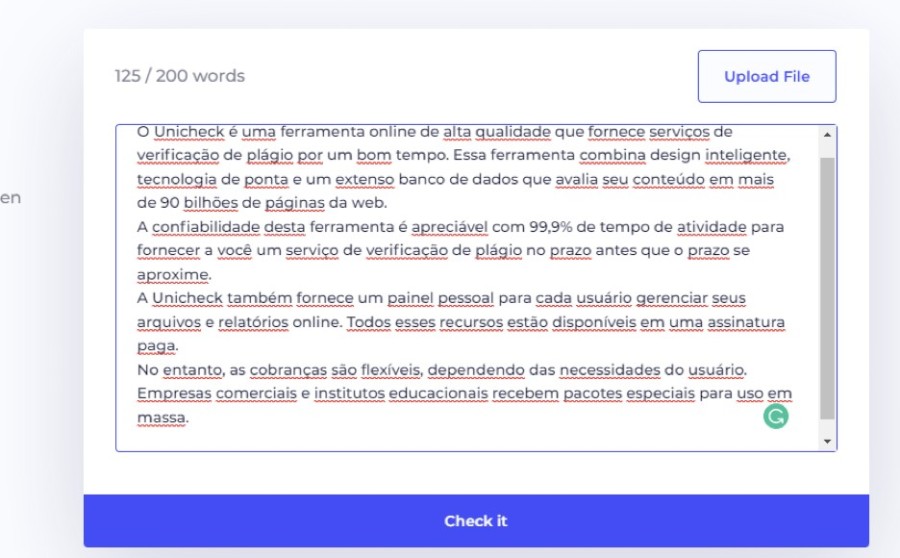 Unicheck is a high quality online tool that has been providing plagiarism checking services for quite some time. This tool combines smart design, cutting-edge technology and an extensive database that evaluates your content on over 90 billion web pages.
The reliability of this tool is appreciable with 99.9% uptime to provide you with an on-time plagiarism check service before the deadline approaches.
Unicheck also provides a personal dashboard for each user to manage their files and reports online. All these features are available on a paid subscription.
However, the charges are flexible depending on the user's needs. Commercial companies and educational institutes receive special packages for mass use.
pros
● Personal dashboard and report management support
● Integration support with MS Office and Google products
● Supports bulk quantity verification with a flexible payment plan
cons
● Paid services can get a little expensive based on usage
● Loaded with features that some users find unnecessary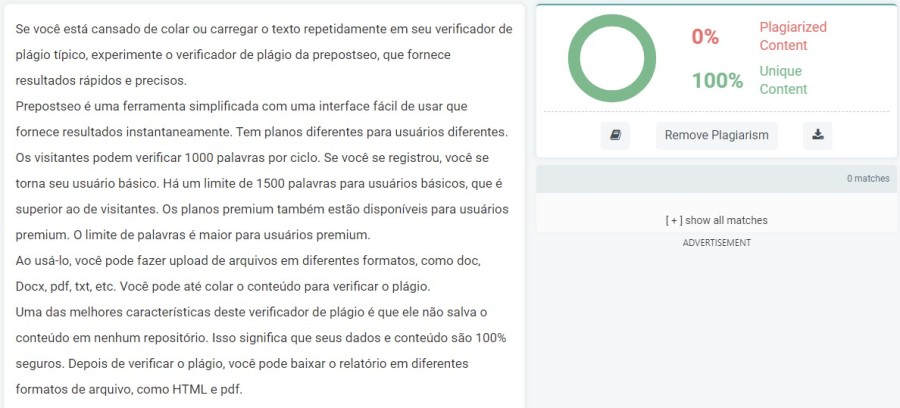 If you are tired of pasting or loading text over and over in your typical plagiarism checker, try prepostseo's plagiarism checker, which provides fast and accurate results.
Prepostseo is a streamlined tool with an easy-to-use interface that delivers results instantly. It has different plans for different users. Visitors can check 1000 words per cycle. If you registered, you become your basic user. There is a 1500 word limit for basic users, which is higher than for visitors. Premium plans are also available for premium users. The word limit is higher for premium users.
By using it, you can upload files in different formats like doc, Docx, pdf, txt, etc. You can even paste content to check for plagiarism.
One of the best features of this plagiarism checker is that it does not save the content in any repository. That means your data and content is 100% secure. After checking for plagiarism, you can download the report in different file formats such as HTML and pdf.
Go to the site and put your text in the user-friendly interface to check for plagiarism.
pros
● Unlimited scans with considerable word count support
● Quick results with a detailed report
● Google Chrome Extension
cons
● Register to check more words
● More features with premium plan
4. PlagScan

This tool is an ideal choice for online businesses that want to compare the content of their websites with online competitors. PlagScan scanner scans billions of web pages to highlight matching content with color coded format.
Each color palette represents a specific error attached with the font displayed next to the report. All bases are categorized separately under defined titles for easy comparison.
While a big downside is that this tool can be quite expensive, it works as per the word count verification needs. You can also take advantage of a business plan for premium support and API access.
pros
● Color-coded plagiarism check scheme
● Reporting and cloud storage support
● Integration with other applications
cons
● Expensive option for basic plagiarism checking
5. Plagramme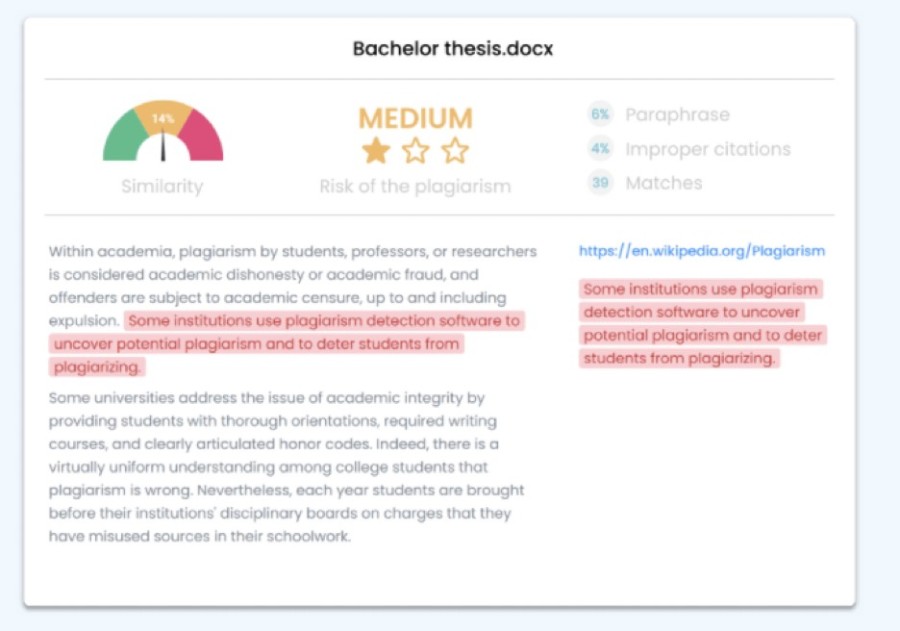 The plagiarism detection algorithm of this tool goes beyond the usual content duplication check. Plagramme highlights any errors, including paraphrased content, similar content, and misquoted phrases.
This tool supports multiple languages with its document editors and error correction options. There are a lot of options and services in one device, but they can cost a premium package.
pros
● Perform plagiarism check and overall content quality
● Offers text editor service to correct errors manually
● Includes free trial-based access
cons
● Works on a credit-based technique that is not suitable for large companies
Conclusion
Text editing and paraphrasing techniques are not very effective if you manually check your content.
Also, it is very difficult to manually check the similarity between your blog and the published content. With a plagiarism checker tool, you can be confident of submitting your work under authenticated review.