Adverbs are words that can modify a verb, adjective or even another adverb. In this article we will see some adverbs in Spanish. Adverbs in Spanish are categorized in time, way, place, quantity, affirmation, denial, doubt and order.
To memorize this list of adverbs in Spanish effectively, we recommend using a tool in the style anki. Stay tuned for tips on how you can memorize Spanish vocabulary accurately in our article on memorization.
If you are learning Portuguese and speaking Spanish. I hope that you enjoy the nuestra list of vocabularies del sitio.
Spanish adverbs of time (Tiempo)
Responsive Table: Roll the table sideways with your finger <<
| | |
| --- | --- |
| adverbs in portuguese |  Spanish  |
| right now | ahora mismo |
| now | ahora |
| still | todavía |
| tomorrow | mañana |
| the night before yesterday | anteanoche |
| day before yesterday | anteayer |
| behind | hace… |
| after | después |
| after | luego |
| Meanwhile | entretanto |
| While | mientras |
| So | entonces |
| earlier today | esta mañana |
| tonight | esta noche |
| today | hoy |
| immediately | inmediatamente |
| including | aún |
| already | ya |
| soon, before long | pronto |
| later | más tarde |
| next week | semana próxima |
| last night | anoche |
| yesterday | ayer |
| recently | recientemente |
| recently | últimamente |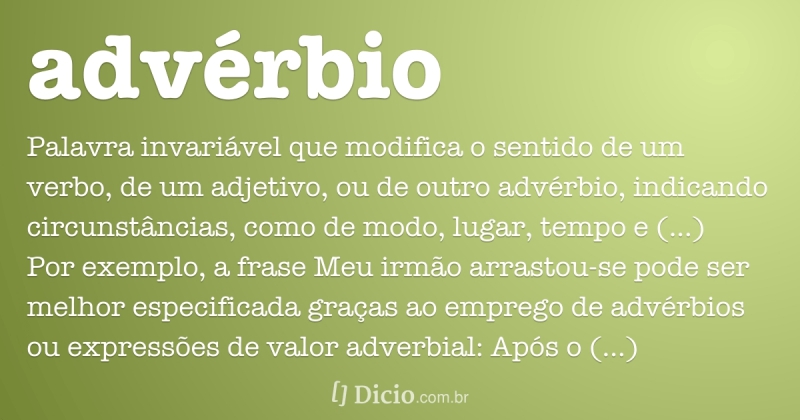 Spanish adverbs of lugar
Responsive Table: Roll the table sideways with your finger <<
| | |
| --- | --- |
| adverbs in portuguese | Espanhol |
| below | abajo |
| above | arriba |
| there | allí |
| there | por ahí |
| around | alrededor |
| on here | aquí |
| fence, close | cerca |
| against | delante |
| at home | a casa |
| nowhere | en ninguna parte |
| anywhere | dondequiera |
| everywhere | en todas partes |
| out | fuera |
| far | lejos |
| there | ahí |
 here = where the speaker is;
 ahí = close to the speaker;
 there = away from the speaker;
Spanish adverbs so
Responsive Table: Roll the table sideways with your finger <<
| | |
| --- | --- |
| adverbs in portuguese | Espanhol |
| absolutely | absolutamente |
| like this | así |
| good | bien |
| like | como |
| carefully | cuidadosamente |
| difficultly | apenas |
| easily | fácilmente |
| together | juntos |
| slowly | despacio |
| bad | difícilmente |
| best | mejor |
| very, quite | bastante |
| much | mucho |
| much | muy |
| worse | peor |
| little, insufficient | mal |
| mainly | en su mayoría |
| almost | casi |
| quickly | rápidamente |
| really | realmente |
| fast | rápido |
| hard | duro |
| alone | solo |
Spanish adverbs of frequency
Responsive Table: Roll the table sideways with your finger <<
| | |
| --- | --- |
| adverbs in portuguese | Espanhol |
| sometimes | a veces |
| often | frecuentemente |
| usually | por lo general |
| Never | nunca |
| occasionally | de vez en cuando |
| rarely | rara vez |
| rarely | raramente |
| ever | siempre |
Other adverbs in Spanish
There are some very small categories of adverbs, we will mention them briefly below:
Adverbs of Doubt

chance == case/if;
quizá == s == maybe;
probably == probably;
perhaps == maybe;
positively == possibly;

Adverbs of Order

before == before;
primarily == first;
after == later;
successively == successively;

Adverbs of Affirmation

faithfully == certainly;
yes == yes;
surely == safely;
clear == clear;

Negative Adverbs

jamás == never;
Never == never;
at the == no;
block == neither;

Quantity adverbs

casi == almost;
well == little;
mucho == a lot;
* very == a lot;
but == more;
quite == enough;
any less == less;
además == in addition;
 Thank you! I hope you enjoyed this article on adverbs in Spanish. We also recommend reading: