Imagine dear reader that you are going to travel to the south of Brazil and you will have to learn the local language (not regional expressions), so you decide to go to the Northeast and there you will also need to learn the local language, and you decide to go north and guess what? there also speaks another language, and each of these languages ​​with a different grammar, different vocabulary and a different writing system (alphabet)!
This is the reality of the vast country India, there is no concept of "official language", in each region of the country it has its own language, although the Government recognizes Hindi and English as official languages ​​for governmental purposes, A Constitution of India recognizes 22 official languages:
Assamese- official language of Assam.
Bengali- official language of Tripura and West Bengal.
Bodo- official language of Assam.
Canara- official language of Karnataka.
Cashmere- official language of Jammu and Kashmir.
Concani- official language of Goa.
Dogri- official language of Jammu and Kashmir.
Gujarat- official language of Dadrá and Nagar-Aveli, Damão and Diu and Gujarati.
Hindi- official language of Arunachal Pradesh, Andaman and Nicobar Islands, Bihar, Chandigarh, Chhattisgarh, Delhi, Haryana, Himachal Pradesh, Jharkhand, Madhya Pradesh, Rajasthan, Uttar Pradesh and Uttaranchal.
Maithili- Bihar's official language.
Malayalam- official language of Kerala and Laquedivas.
Manipuri languageor Meithei- official language of Manipur.
Marathi- Maharashtra's official language.
Nepali- official language of Siquim.
Oria- official language of Orissa.
Panjabi- official language of Panjabe, second official language of Delhi and Haryana.
Sanskrit- language of Hinduism, mandatory in many schools.
Santali
Sindhi
Tamil- official language of Tamil Nadu and Pondicherry.
Telugu- official language of Andhra Pradesh.
Urdu- official language of Jammu and Kashmir, some districts in Andhra Pradesh, Delhi and Uttar Pradesh.
If you are a language lover, surely India is for you.
When you look at a newsstand, is it like me looking for a magazine, newspaper or brochure in another language? well in India this is not a problem, see how this Brazilian who has a website called Tabibito Soul describes her daily life in India:
But note how interesting she put several newspaper covers in some of the languages ​​of India.
But after all, how many languages ​​are spoken in India? There are more than 400 languages ​​which include dialects, Juliana Alves, are exactly 418, [Where] '' 250 [languages] have died in the last 50 years. Of the 780, 122 are spoken by more than 10,000 inhabitants, and the rest by less than 10,000. ''
Other Languages ​​of India:
The following languages ​​are spoken by more than five million people but have no official status.
Portuguese- language spoken in Goa, Damão and Diu, in some cities of Gujarat and in the rest of Portuguese India.
Awadhi
Bundeli
Chhattisgarhi- Chhattisgarh language.
Hariyanavi (Haryanvi)- Haryana language.
Hindustani- a mixture of Hindi and Urdu, widely spoken in northern India.
Kanauji- Uttar Pradesh language.
Marwari- language of Rajasthan.
I confess that when I saw Portuguese I was also impressed, but the reason is that Portugal also tried to colonize Goa, The official language of Goa is the Concani language. After Portugal lost control over Goa, the Concani and the Marathi language became the most spoken languages ​​in the state, but it is not uncommon to find Portuguese speakers there!
See this map with the different languages ​​of India: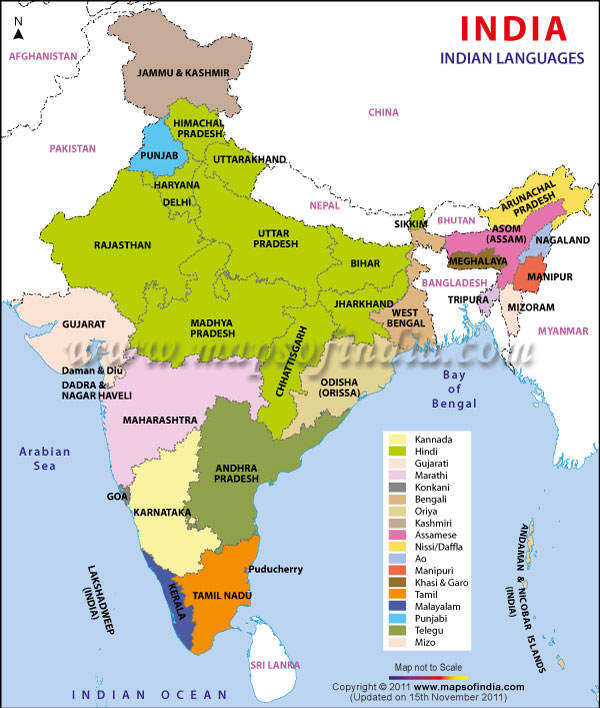 This video represents a little of this linguistic diversity in this beautiful country: India.
So…
বিদায় (biday) / বায় (bay)- Assamese
ভালো থাকবেন। (bhalo thakben) - Bengali
अलवीदा। (alvidaa) - Kashmir
આવજો (avjo) - Gujarati
नमस्ते (namaste) / फिर मिलेंगे (phir milenge) – Hindi
എന്നാത് ആകട്ടേ (ennāl ākaṭṭē) / പൊയിവരട്ടെ (poyivaraṭṭe) – Malayalam
ਰੱਬ ਰਾਖਾ (rabb rākhā) /ਸਤਿ ਸ੍ਰੀ ਅਕਾਲ ਫਿਰ ਮਿਲਾਂਗੇ
(sati sri akālfir milange) - Panjabi
போய் விட்டு வருகிறேன் (poy vittu varugiren) [ml] [fm] / அப்புறம் பார்க்கலாமே
(appuram parkkalaame) [ml] - Tamil Formal
వెళ్ళొస్తాను (vellostaanu) - Telugo
-Urdu خدا حافظ - (khuda hafiz)
Or in Portuguese, Goodbye (until next time) !!!