To learn French it is necessary to have a basis and study material. With that in mind, the Aprender Palavras site will present you the best books for you to learn French in the best possible way.
The French language has more than 274 million speakers worldwide, the French language is the official language of more than 29 countries. Many languages ​​were influenced by French. This is just a few of the main reasons for you to learn French and its culture.
Before buying any French book, keep in mind that you need to study correctly. The best way to learn is to read and study naturally without straining your mind or doing random exercises to fill in the gaps.
With that in mind, we only selected special books that use this learning method more appropriately than traditional methods that slow people down.
The best Digital French book
We will recommend several real books for you to buy and receive at your home through our partnership with amazon. Before that I want to mention one of the best digital books and totally free for you to learn French.
The Digital Book - E-book Essential French is a comprehensive guide for those who need to learn French from scratch. There are several reflective, theoretical and practical chapters that use a unique and practical methodology.
It was written by Rafael Tosta and his team, who have over 10 years of experience in teaching languages, art, yoga and pedagogy.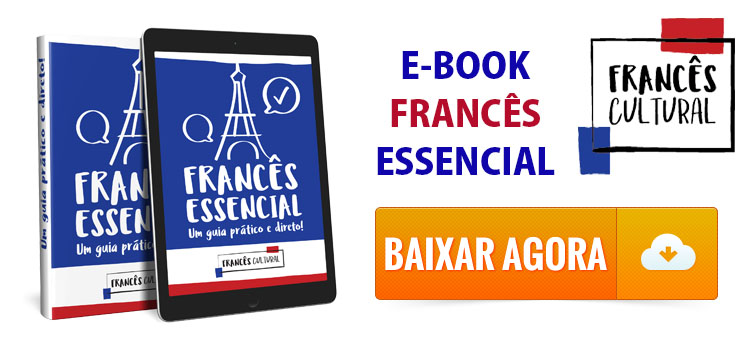 To download the Essential French book, just click here now! 
Registering on our website, you also receive other digital study materials.
Choosing the best book for you
Although we have listed some books below, I recommend that you thoroughly research the alternatives that the Amazon website recommends. There are thousands of books on the French language, maybe there are better ones to suit your taste.
We always recommend reading the book reviews, their rating and their publication date. Some books may be outdated or more expensive than others.
Unfortunately our partner amazonBR only accepts credit cards. Another alternative if you don't have cards, would be to use a prepaid card or buy a Gift Card from AmazonBR.
The Best French Books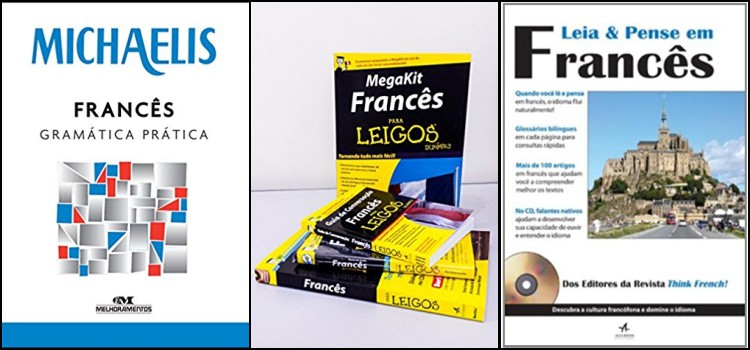 Michaelis. French. Practice Grammar - For those who want quick access to the grammatical details of the French language, I recommend it. This grammar was specially designed to solve doubts in the study and in the use of the French language by Portuguese speakers.
French Megakit For Dummies - A complete kit with books and audios to help you learn French in the best way and from scratch. As the name says, it is French for laymen, if you want to acquire fluency, you will need more advanced books.
Read & amp; Think French - This French book will help you build a rich vocabulary without the burden of tedious repetitions or memorizations. He teaches through articles in French about the country and French culture. One of the best learning methods accompanying with book and audio.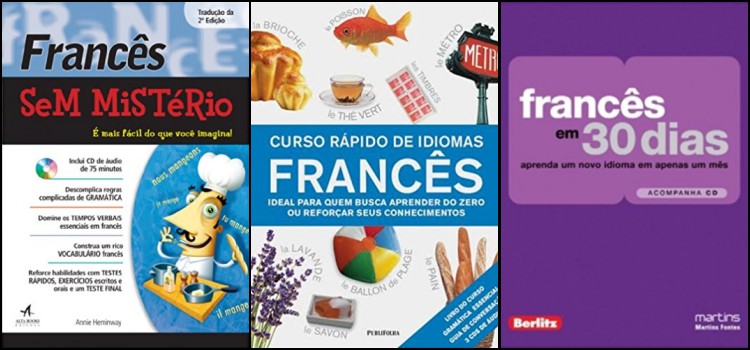 French without mysteries - Easy and practical guide to follow, with great activities and didactics. A great help to complement studies and understand grammar.
French - Quick Course Collection - With illustrated exercises and phrases that refer to everyday situations, this title offers an efficient method, lasting 12 weeks, for those looking to learn French from scratch or reinforce their knowledge.
French in 30 days - An audio book that teaches the basics of French in 30 days. A very basic book for those who need to travel and learn things like moving around the city, greeting and talking to the French.
The Best French Dictionaries
It is not enough to have a random French book to study. Although there is an internet, it is good to have a French dictionary in hand. We recommend some below: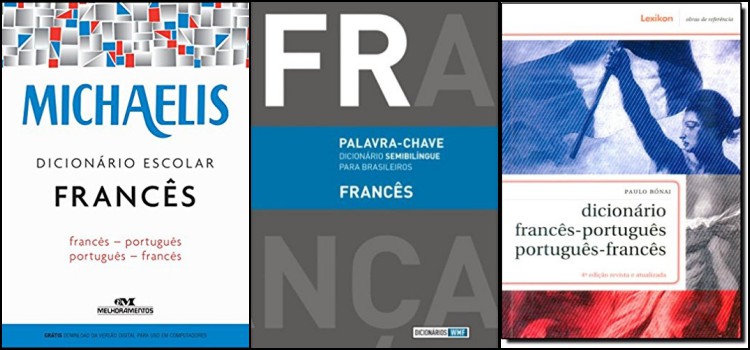 Michaelis. French School Dictionary - Michaelis creates the best dictionaries, this one in French is no different. It has more than 28,000 entries and covers an essential vocabulary with over 50,000 translations and 25,000 expressions and examples.
Keyword. French. Semi-lingual dictionary - With 48,000 definitions, phrases and expressions, the French key word book presents a proposal totally different from traditional dictionaries. It helps to understand the expressions and the meaning of the word more appropriately to the context through clues and keywords.
French Dictionary by Paulo Rónai - A complete 616-page dictionary with the main rules of French pronunciation and a guide to conjugating French verbs.
I hope you enjoyed the recommendations. We appreciate the shares and comments. We also recommend: