If you still don't know Anki, he is a great tool for repetition and memorization. His goal is simple, don't let you forget what you've learned. Anki was totally designed to make you remember something at the right time.
When we learn a word or something new, but do not keep in touch, the tendency is that we will forget that information. Our brain understands that if something is not important to us, then it can be put in the background, and with that we end up forgetting and creating a Oblivion Curve.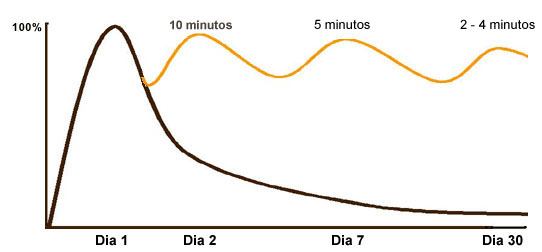 Anki works with spaced repetition, preventing our Oblivion curve reach zero. The more we study about a certain subject, the more difficult it is to forget. The purpose of anki is to remember everything you learned at the right time.
With Anki you create cards, decks, where you put a word or phrase you learned, and the meaning of it. Anki will automatically display a letter, and you will have to try to find out the meaning of it, if you got it right you answer if it was easy, difficult or that do not remember.
You will not need to do anything besides creating anki's decks and reviewing them. It automatically organizes your deck and displays what you should review, all in a way that makes you learn, and don't forget.
It is very important to take at least 5 minutes a day to study with this beautiful tool. It is necessary to know how to make good use of it too, thousands of teachers, has applied anki as the main tool for students to study, and this has created great results.
Anki is available for almost all operating systems, Smartphones, tablets and also available online in the browser.
What is the main mistake when using Anki?
Some people often use anki to learn words. But that's wrong, anki's goal is to help you not forget the words you have learned. Many usually download thousands of ready-made decks, taking random phrases from websites and adding them to anki. And when it comes to studying, you never remember the meaning of the letter, and you never learn it. Remember to add only content that you already know or have studied to anki.
How to download and install Anki?
1 - You must download the program from the website: https://ankisrs.net/ 
2 - Just access the website, click on Download, choose your operating system, download and then install.
3 - When opening the installed program, a screen will appear where your decks (decks) will be.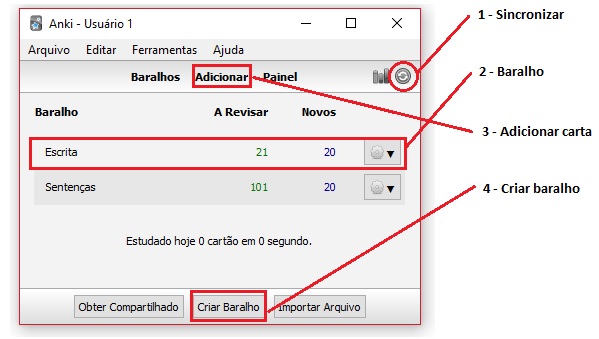 1 - Sync - This option is used to synchronize your decks with your anki account, which you can register with the program when you click it for the first time. This account allows you to synchronize your playing cards with the anki of your smartphone, tablet, browser.
2 - Deck - After you have created your deck, you can select and begin the repetition and memorization exercises.
3 - Add Letter - Here you add a new card to your deck. You can add phrases, words, and even add audio.
4 - Create Deck - It allows you to create a new deck, we recommend having only 2, one for words and one for complete sentences.
Adding Cards to the Deck
Anki works as a type of flashcard, where you create a card that will display the front, and you have to find out what will be on the back. Not necessarily the same.
Front - Here you put the phrase, sentence, word you want to memorize.
Verse - Here you put the meaning, translation, pronunciation and any useful information.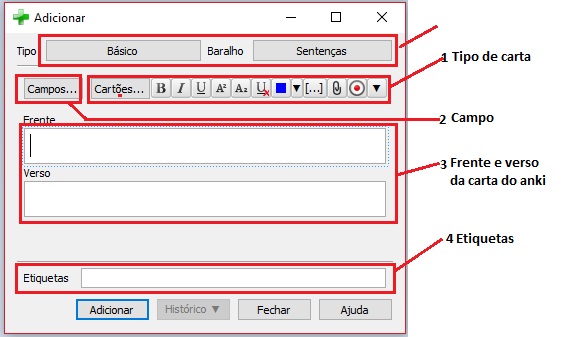 1 - Type of Letter - Here you choose the type of card and what deck it should be in.
2 - Field - Here you can create new fields in addition to the Front and Back, and also edit and format the field's texts.
4 - Labels - They are tags, or categories, for you to find the cards more easily, classifying them in a certain category.
Letters from Anki
After creating your deck, and choose to study it. You will find the first screen as in the image below: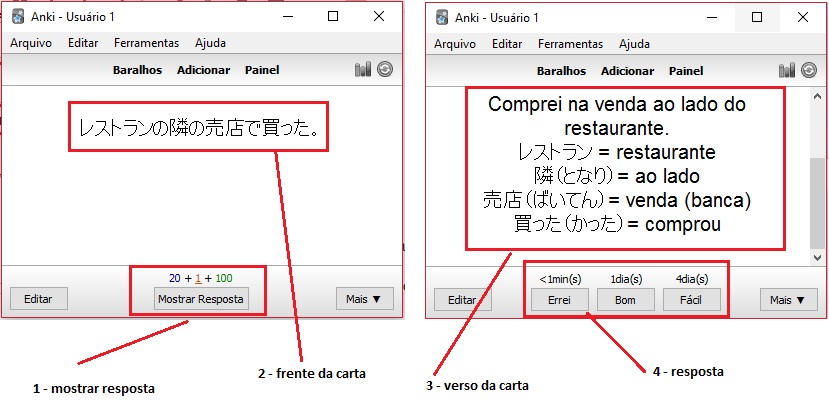 First look at the front of the chart, try to remember its meaning. If you think you already know the answer click show answer and check it out. If you think you don't know, click anyway.
On the second screen, the reverse side of the chart, carefully read the meaning and all the information on the back of the letter. Then answer (4) if you made a mistake, if it was good or easy. The anki will determine the time you will review this letter again.
Automatically after reviewing a number of cards determined by the program, it will tell you to stop studying the deck for today. Do this process of reviewing the letters daily, so you will never forget what to study. I hope this short article has shown you how this powerful tool works.